Sewer Testing with Superior® Smoke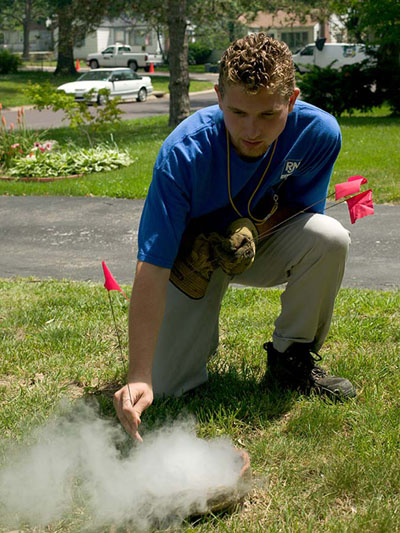 Find Sources of Inflow Fast!
Smoke Testing is the most cost effective method to find sources of surface water inflow - the leading cause of wet weather SSO's. Fast and easy to do, Smoke Testing produces immediate results that can be acted on quickly - often at minimal expense to the Municipality.
Common sources of sewer inflow include:
Roof Downspouts
Abandoned Sewer Lines
Cross Connected Storm Lines
Cross Connected Sanitary Lines
Yard / Foundation Drains

Unconnected Sewer Lines
Leaking Manholes
Broken Laterals
Cellar Drains
Sump Pumps
The Superior® Smoke Testing Technique

Still today's industry standard, thousands of municipalities in all 50 States and around the world have used this method of Smoke Testing with great success for over 50 years. Hundreds of millions of feet of sanitary sewer mains have been effectively tested using Superior® Smoke products, eliminating countless faults - and the SSO's that would result from them.



 

 

 

Sanitary Sewer Smoke Testing Diagram

 
| | |
| --- | --- |
| See How Smoke Testing Works! |   |