Plant & Equipment Maintenance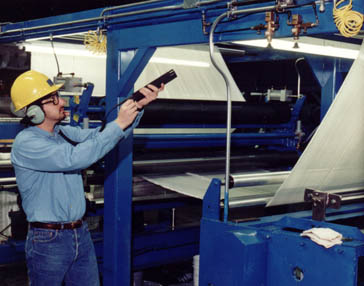 Ultrasonic inspection techniques are an essential part of plant maintenance programs to reduce energy costs, and increase equipment reliability. For years Superior AccuTrak® has provided technicians with higher performance instruments at lower prices than the competition. Superior AccuTrak® instruments feature advanced patented technology and are optimized to detect compressed gas leaks, refrigerant leaks, vacuum leaks, electric arc or corona, and diagnose mechanical faults among other applications. Exceptionally versatile and 100% American made, AccuTrak® instruments are proven effective in real-world industrial conditions and are sure to save you both time and money.
Find Air & Gas Leaks Fast!

Did you know that compressed air often devours more electrical energy than any other equipment in the plant? Do your compressors run on weekends when the plant is unoccupied? Do you have difficulty maintaining optimum pressures? Have you come to rely on your backup compressor for routine demand? - Still think Air is Free??? Save thousands (20 to 50%)* annually by locating and repairing air leaks! Do it with AccuTrak®, the easiest way to find them, Simply turn it on and go!!! AccuTrak® is also great for refrigerant leaks, vacuum leaks, heat exchangers, or any pressurized system.

 

Detect Bearing Wear

The surfaces of internal bearing components are constantly wearing down. Increased friction and impact creates changes in ultrasonic sound signatures as they progressively get worse. AccuTrak® not only lets you hear the internal components but allows you to set baselines for both comparative and historical trending. Inconsistently high readings indicate wear or lubrication problems and provide you with advanced warning of failure on the horizon. AccuTrak® model VPE-2000 offers digital frequency selection, volume/sensitivity and meters with peak hold to assure you of repeatable and reliable results every time!

 
 
 

Test Steam Traps

Save over $30,000 per year! That's what many companies can expect by initiating a simple steam trap testing and repair program. Leaking steam traps waste thousands of dollars in live steam, while traps failed closed won't remove damaging condensate. Identifying these problems with AccuTrak® is simple!

 

Test Valves

With Superior AccuTrak® you can easily locate faulty leaking valves - even ones with internal leaks! Using the touch probe extension, AccuTrak® will detect the turbulence created by pressurized gas passing through a leak. Within seconds a technician can determine if a valve is sealing properly or leaking.

 
 
 

Detect Electric Arc and Corona

Superior AccuTrak® can easily detect the ultrasound created by electrical arcing or corona. Quickly identify power faults before they fail, and avoid dangerous conditions.

 

Many Other Applications!

Pneumatic Control Valves & Systems

Hydraulic Systems (External and Internal)

Fan Belts

Vibration

 Simply The Best Compressed Air & Gas Leak Detector On The Market
If your goal is to find leaks of any compressed gas or vacuum in an industrial setting there is no better or more durable instrument than the Superior AccuTrak® VPX-WR Ultrasonic Leak Detector. The VPX-WR detects compressed air and gas leaks from a distance, and then enables the user to pinpoint the exact location of the leak. The instrument's patented Dynamic Noise Discrimination (DND) technology scans a broad range of ultrasound (20 to 100 kHz) allowing operators to find leaks faster and more reliably, without the guesswork of manual tuning. Nearly all industrial facilities have numerous compressed air leaks, with larger facilities typically wasting over $100,000 a year! The VPX-WR is the preferred instrument for air leak survey professionals all over the world. Learn more about the VPX-WR HERE.

The Power Of Versatility

There are many more faults than just external gas leaks in a modern plant. Perhaps you need to find out whats going wrong inside of a system. Like two instruments in one, the Superior AccuTrak® VPE-2000 has two dedicated sensors, one for airborne leak detection and the other for the powerful touch probe which allows the operator to listen for internal leaks and faults in valves, steam traps, bearings and more! Learn more about the VPE-2000 HERE.
Proudly Made in the USA
All Superior AccuTrak® Instruments are made in the USA, to the highest quality standards, providing higher performance at a lower cost than other competitive products. The VPX-WR and VPE-2000 come in a premium protective hard case, with a full complement of accessories.