HVAC/R Leak Detection
Find refrigerant leaks, compressed gas leaks, and vacuum leaks FAST!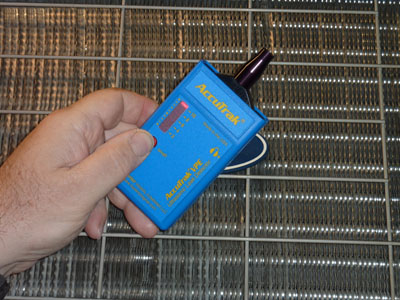 PATENTED Superior AccuTrak® Ultrasonic Leak Detectors use state-of-the-art technology to pinpoint leaks in air conditioning and refrigeration systems. Extremely sensitive to the ultrasonic sound of a turbulent gas leak, AccuTrak® Ultrasonic Leak Detectors use a technique called "heterodyning" to translate ultrasound to a lower frequency which your ear can interpret. With the ability to literally hear the ultrasound of a tiny leak, these amazing leak detectors allow you to quickly pinpoint the source. Furthermore, AccuTrak® Ultrasonic Leak Detectors maintain the original sound characteristics of the ultrasound, making it possible to distinguish leaks from other competing background sounds. AccuTrak® is so sensitive you can actually hear the blink of an eye, yet as these instruments only pick up ultrasound, most background noise will not interfere with leak detection accuracy.


AccuTrak® Ultrasonic Leak Detectors work when traditional methods fail!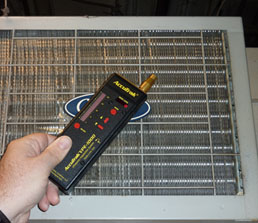 UV dyes/lamps are time consuming, and difficult to use in daylight. Leaks must be within the users line of sight, as with bubble solutions. AccuTrak® solves the problem!
Electronic refrigerant "sniffers" are sensitive, but sometimes too sensitive when large leaks exist, or if contaminants are present which cause false alarms. They are also very difficult to use in windy areas. AccuTrak® solves the problem!
With the Touch Probe feature of your Superior AccuTrak® instrument, you can evaluate valves for proper operation, and easily hear by-pass flow in a faulty closed valve. Troubleshoot pneumatic expansion valves in just 5 minutes!
"I visited your booth at the Las Vegas show and bought your product. I must commend your company for delivering a great product. I used the AccuTrak for the first time last week looking for a leak in a walk in box with evaps 12 feet in the air. While looking for a leak in 2 of the 4 coils, I passed a coil that I wasn't even looking for a leak in. From the ground I heard a slight hiss and upon closer inspection I found a leak at a TXV so small my bubbles did not even show it. I did wind up finding the original leak I was looking for too. I have never had the opportunity to write such a great review for a HVAC product in my 25 years in the industry. I want to say thank you and keep up the great work. I'll be looking at your upcoming products with anticipation."

John Lutkus
Alfano Mechanical
"I own a small hvac/r business and have used the VPE ultrasonic leak detector for 23 years and can't compliment this tool enough. This leak detector has found more leaks in its lifetime with little or no maint. This is a well made tool that all mechanics should have. "

Glenn Roe
Owner, Glenns HVAC/R LLC.