NEW

High Output Superior Blowers for Mainline Sewer Testing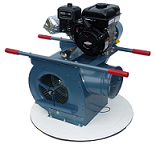 Come visit Superior Signal Company in Booth #2323 at the 2013 Pumper Show February 26th - 28th and check out the newest Smoke Blowers by Superior Signal LLC. the Industry Leader in smoke testing!
The NEW Superior High Output Blowers offer a dramatic increase in performance with a 120% increase in Flow to 4,000 CFM, and a 135% increase in Static Pressure to 4.0" water.  When you need maximum performance Superior High Output Blowers offer a combination of High Performance and Features that no other competitive unit can match.  These new Model # 15 and Model # 25 Blowers are the latest in a complete line of Smoke Blowers engineered specifically for Smoke Testing – the most cost effective method to find sources of surface inflow. Like all Superior Smoke Blowers, the new High Output models can be configured for use with Smoke Candles and/or Smoke Fluid to quickly and easily detect sources of inflow and other faults in sanitary sewer lines. learn more...

Find

Plumbing & Septic Leaks and Sources of Odor with the Superior 5E Electric Smoker!

With the Superior 5E Electric Smoker, a smoke test takes only minutes to set up and seconds to see the results.  Connect to any house or building cleanout, roof vent, or directly to the septic tank.  Just plug in, turn on, light appropriate size smoke candle, and look for the leaks.  The blower forces smoke through cracks and leaks, and hard to find plumbing faults become easy to identify.  The 5E Electric Smoker used together with Superior Smoke Candles from 30 seconds to 3 minutes covers all residential and commercial smoke testing applications. learn more...